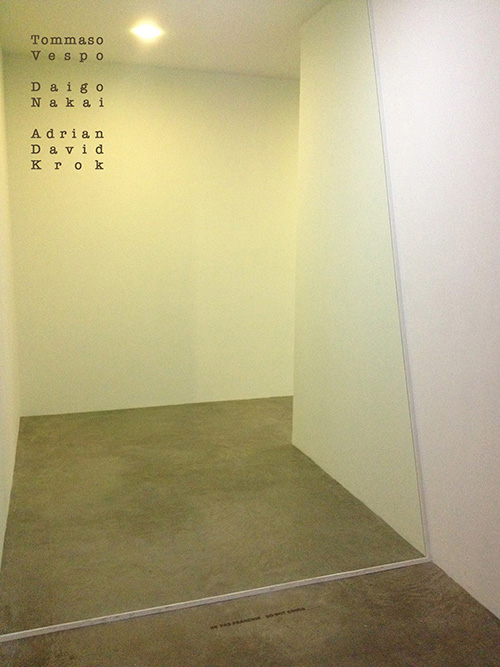 Photo: Giuliana Scollo
Vespo – Nakai – Krok
Tommaso Vespo
– IT, piano
Daigo Nakai
– J, d.bass
Adrian David Krok
– PL, drums
10. Juni 2017 – 20.30Uhr
Eintritt: 5,–– €uro, bis 10,–– €uro

Reservierung: 030 / 56 82 89 31



Rixdorfer Jazzsalon


in der

Galerie bauchhund salonlabor



Schudomastr. 38, 12055 Berlin⁄Rixdorf
S-Bahn Sonnenallee ⁄ Bus M41 bis Mareschstraße




Tommaso Vespo

Tommaso Vespo began studying piano at early age. Since 2000, he started playing concerts both in solo and with musicians such as P.Sorge, F.Cusa, A.Amato, A.Vicard, A.Longo, A.Aiello, S.Barbagallo, Naked Musicians. He joined the collective Improvvisatore Involontario (2010–2013 and organized festivals (Aprile, don′t dormire; i! festival) and clubs (Jazz around midnight; Algorythmn). In March 2011 was on tour with Naked Musicians (guests C.Zavalloni, M.Pagani, E.Sharp) in New York, where he performed at Columbia University and other venues. Since 2012, he joins the RARA Festival playing with many musicians as M.Fischer, T.Brown, J.Kochan. Same year he joined Pasto Collettivo. In December 2012 he started collaborations with musicians from Berlin, as cellist Hui-Chun Lin. Since the 2013, he joined the Berlin Improvisers Orchestra where first performed at the B-Flat Club. In Berlin he met amazing exponents of the new-impro-scene such as A.Kaluza, W.Georgsdorf, H.Nonnemacher, S.Bleier, R.Tejero, A.Blunt, M.Siebenstadt, N.Taylor, N.Hein, M.Capurso, U.Mengerberg, K.Kuerves, T.Hosinger and many others. In 2013, he first played in London at Vortex Club with N.Taylor, T.Wheatley, J.Garcia and at Arch1 with K.Grant, M.Mattos, R.Sutherland e G.Viltard; came back to London twice in 2016, where in February he played first time with the London Improvisers Orchestra and at Iklectik with S.Lynch, A.Northover and A.Bohman and, in November, for the MultiOvLondon festival in trio with N.Stammberger and P.Winters and in quintet with M.Siebenstädt, J.Kjaer, H.Marshall & R.Musson. Same year, he played again with the Ber.I.O. (January and September); in April, he was invited at Amsterdam for the Oorsprong Curators Series and for a recording with R.VanDerWeide and O.Goavert. For the RARA 2016, among others he joined D.Catanuto, E.Flunger and J.Mobilia for an Omage à Bartok. He released cds including Tree forms, (Forthcoming trio, i! 2013), Stones of Contention (Citystream 2014), MIRA (I.R.A. 4et, 2015); new releases are scheduled for the 2017.

Daigo Nakai

Daigo Nakai is an improvising musician/bass player, has recently moved to Berlin from Melbourne in Australia. He has been invited to perform in Festivals and concerts across Australia, Japan and Europe as well as independently curated events in Melbourne. Daigo has performed as a session musician appearing in many ensembles including Melbourne based group Captain Apples and Miss Colombia, as well as Ade Ishs Trio – of which Daigo has been a member for 4 years.

Adrian David Krok

Adrian David Krok is a Polish drummer living and working in Berlin. He is involved in a wide variety of musical projects, mostly in the direction of free improvisation, free jazz and experimental music. After studying music for a short time in Switzerland, he left the academic music world and continued to expand his technique and personal approach through self education and experience. His approach to the drums embodies a combination of static grooves and beats with extended techniques and more textural elements, utilizing objects and preparations in addition to playing in the traditional manner. His playing is characterized by an incredible sensitivity and awareness, but is at the same time powerful and direct. He has performed and toured across China, Switzerland, Poland, Germany and Austria with a wide range of artists from many different genres, including jazz, rock and pop, in addition to more experimental and improvised music. Among others, he has worked with Mateusz Rybicki, Gregor Siedl, Abigail Sanders, the Berlin Soundpainting Orchestra, Rieko Okuda, Antti Virtaranta, Nana Pi Larsen, Simon Rose, Lan Cao, Christopher Uhe, Michiyasu Furutani, Adam Goodwin, Antoine Mermet, Miriam Siebenstädt, and Lennart Heyndels, Marialuisa Capurso, Liz Kosack, Edith Steyer, Eric Wong, Eric Trejo Santiago, Davide Piersanti, Davide Lorenzon, Brianne Curan, Antonio Bravo, Michele Pedrazzi, Kriton Beyer, Amélie Legrand, Tatsumi Ryutsy, Caroline Cecilia Tallone, Wojtek Makowski, Emilio Gordoa, Scott Weiner, Andreas Willers, Gerhard Gschlößl, Masahiko Ueji and Klaus Schöpp.