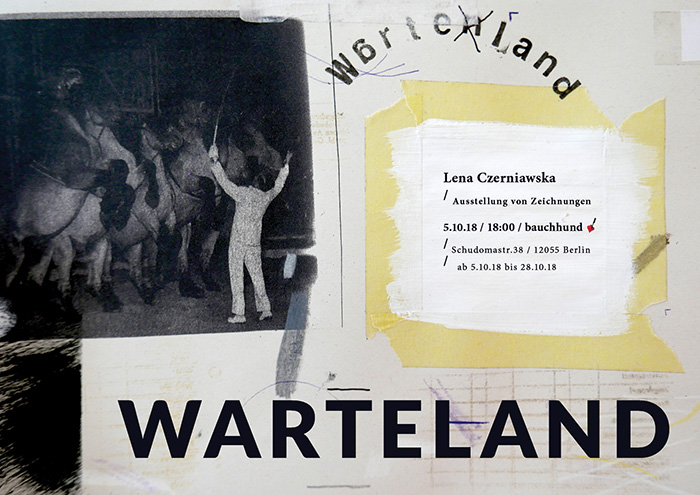 Lena Czerniawska



05.10.2018 – 28.10.2018


Vernissage: 05.10.2018 – 20Uhr

Finnisage: 28.10.2018 – 16Uhr



Lena Czerniawska

WARTELAND
drawing installation


Begleitprogramm zur Ausstellung:

6.10 // 20:00

Michael Thieke / clarinete
Emilio Gordoa / vibrophone

13.10 // 20:00

Dirar Kalash / oud

20.10 // 20:00

Simon Rose / baritone saxophone
Philippe Lemoine / tenor saxophone
Lena Czerniawska / drawing

25.10 // 20:00

discussion with Julia Siwek
about waiting in art
WARTELAND
"
"Warteland is a place of waiting. It′s a waiting room, bus stop, queue, week, month, year, whole life… Waiting as a mystery of human existence referring to time, passing and death. Waiting as a physical and psychological state, philosophical concept, metaphor, symbol. Being in between, in emptiness, in nerves, excitement, thoughtfulness. I observe Warteland, examine this place, analyze it, becoming a scientist with the word, line and paper as a tool of cognition.

I compose conclusions — I draw, photocopy, cut, make transfers, take notes, write letters (non–letters, letters–tangles, letters–escapes, letters–non–letters). All drawings are created simultaneously, reflecting on each other, becoming their inaccurate copies. A study carried out in the second and third quarter of 2018 in Berlin, on the topic of waiting presented in the form of a drawing installation conducive to feelings of confusion, repetition, reflection, focus and introspection.
"
Lena Czerniawska, 2018
LENA CZERNIAWSKA
Lena Czerniawska was born in 1989 in Nowy Dwór Mazowiecki in Poland. During her childhood and youth, she was inspired by her mother Julia Wernio, who was a theatre director. Subsequently, her early influences came from the theatre, as well as the literature, music and visual art she was exposed to during these years.
Czerniawska lived in Wroclaw, and studied in studios of Eugeniusz Get-Stankiewicz, Eugeniusz Smolinski and Michal Jedrzejewski at Academy of Fine Arts, majoring in Graphic Arts, also developing the beginnings of her practice within drawing and performing arts. Later, she began teaching at the academy as an assistant to professor Jacek Szewczyk. In 2017, Czerniawska moved to Berlin to focus on her individual career.
Her main artistic focus is drawing, and she sees this as the critical component of her practice from which her ideas are derived. Her work encompasses installation, graphic design and performing, particularly with experimental or improvised music. Conceptually, Lena's multifaceted practice investigates reality through image and temporality, and aims at harnessing the various influences across media that she has embraced over the years.
Trying more to search rather than to find, she knows that '
who finds did not search right
'
(Aglaja Veteranyi).
Begleitprogramm zur Ausstellung "Warteland"
(05.10.2018 – 28.10.2018):
6.10 // 20:00
Michael Thieke — clarinete
Emilio Gordoa —/ vibrophone
13.10 // 20:00
Dirar Kalash — oud
20.10 // 20:00
Simon Rose — baritone saxophone
Philippe Lemoine — tenor saxophone
Lena Czerniawska — drawing
25.10 // 20:00
discussion with Julia Siwek
about waiting in art
Galerie bauchhund salonlabor
Schudomastr. 38 / 12055 Berlin/Rixdorf
Öffnungszeiten:
Mo/Di/Do 16
–
19Uhr
oder auf Verabredung via 030/ 56 82 89 31