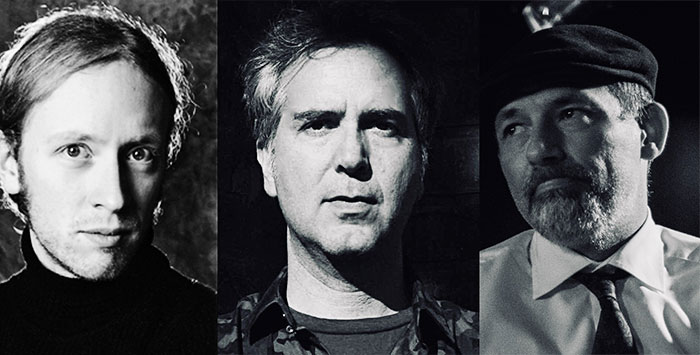 Hugo Fernandez Trio
30. November um 20Uhr
"A creative Mix of Jazz, Pop⁄Rock, Classical and Folk music"
HUGO FERNANDEZ — guitar
KAY LÜBKE — drums
RODOLFO PACCAPELO — bass

Eine kreative Mischung aus Jazz, Pop, Rock, Folk und klassischer Musik. Hugo Fernandez-NGT ist die Begegnung von drei hochrangigen Musikern, die sich einer neuen Vision des zeitgenössischen Jazz widmen. Die Interaktion und Energie dieses Ensembles führt uns zu unerwarteten Klanglandschaften. Eine Musik, die vom reichen Erbe des Jazz inspiriert und mit anderen Stilrichtungen wie Pop, Rock, Folklore und klassischer Musik vermischt ist. Dieses einzigartige Trio präsentiert hauptsächlich Originalkompositionen, aber auch einige Jazzarrangements renommierter Standards.



LINKS:
hugofernandez.bandcamp.com/
www.hugofernandez.net



Hugo Fernandez

is a Mexican musician that has settled recently in Berlin after more than a decade in Madrid. He is a Berklee College of Music (Boston) graduate, with a master′s degree in jazz from the University of New Orleans. His residence has changed many times and has given him the opportunity to meet, collaborate and learn from excellent artists. His development and vocation has taken him to build his own universe where the rich legacy legacy of jazz coexists with the energy of other music such as: classical, pop-rock and world folklore.The sound of his music will take us away from jazz at some spots, leading naturally to unexpected places. The debut album "

Origenes

" (2013) brings the band to open the Jazz Cycle "Por lo tanto Jazz" in Mexico City's "Palacio de Bellas Artes". The second album "Cosmogram" (Origin Records 2015) makes the list "Best of 2016 Jazz Albums" according to Downbeat Magazine. He has performed with his project in venues and festivals such as: Festival Internacional Cervantino (Mexico), Circulo de Bellas Artes de Madrid, Festival del Centro Historico (Mexico), Teatro de la Ciudad (Mexico), Festival de Jazz de Madrid, Festival Internacional de la Guitarra de Guatemala, Jazz Fermin (Spain), Jazz en el Centro (Gijon), Fundacion Olivar de Castillejo (Spain), B Flat, Kunstfabrik Schlot, Panda Theatre, Bogui Jazz Club, Jimmy Glass Club, Zinco Jazz Club, Snug Harbor among many others…
Rodolfo Paccapelo

was born on 1 April 1979 in Buenos Aires, Argentina. Studied in conservatories such as ConservatorioNacional Manuel de Falla and ITMC in Buenos Aires. He took private studies with top–class musicians like Ernesto Jodos, Hernan Merlo and Teodoro Cromberg. Since 2000 Rodolfo Paccapelo hasbeen living and working as a professional musician in Berlin, where he also studied music at the Universität der Künste and the academic degree of a Diplommusikerzieher (2007) received. Rodolfo Paccapelo worked with musicians such as Richie Beirach, Steve Grossman, Ralph Towner, Markus Stockhausen, John Schroeder, Felix Wahnschaffe, Henrik Walsdorff, Luis Stazo (grammy award winner), Quinteto Angel, Julia Zenko and so on. International tours (e.g. with the Goethe Institute)took him to Countries such as Switzerland, France, Finland, Spain, England, Portugal, Italy, Czech Republic, Colombia and South Korea. In addition, Rodolfo Paccapelo has performed at various theatres such as the Dessauer Theater, the Theater des Westens and various independent theatres.Theatre productions in France and Berlin.
Kay Lübke

has lived and worked in Berlin since 1998. Born in Karlsruhe, he studied at the HfM Hanns Eisler in Berlin. Before that he was at the Johannes Gutenberg University in Mainz and at the Musikwerkstatt in Frankfurt. Kay Lübke felt very comfortable in the Berlin music scene. Numerous projects and groups were created, which over the years led to various CD recordings with Silke Eberhard, E.–L. Petrowsky, Uschi Brüning, Uli Gumpert, David Liebmann, Majid Bekkas, Henrik Walsdorf, Christof Sänger, Georg Boesner and Uli Kempendorff. This in turn resulted in concert tours and festival engagements in other European countries, Israel, Morocco, Egypt, Azerbaijan, China, Canada and the USA. In addition, K.L. is active not only in clubs but also on various stages in Berlin, at the Volksbühne with Sir Henry, before that at the Schaubühne, at the Festival Spielzeit Europa and at the BE as well as at the Tanzplan Dresden. In 2008 he won the Berlin Senate Studio Prize with the band Croomp and in 2009 with Stephen Brandon, in 2013 again with the project

Slowboy

.



Eintritt: 7,–– €uro bis 15,–– €uro
Reservierung: 030 / 56 82 89 31





Rixdorfer Jazzsalon
in der Galerie bauchhund salonlabor

Schudomastr. 38, 12055 Berlin⁄Rixdorf
S–Bahn Sonnenallee ⁄ Bus M41 bis Mareschstraße