Fátima Montero
Raimondo Castronuovo
Luis Alhama
Ausstellung: 28. März bis 13. April 2013

Vernissage: 28.März 2013 20Uhr
mit Konzert von
Lavinia Claws
BAUSTELLE
Drei Künstler entwickeln ihr konstruktives Spiel selbstbehaupteter
Koexistenz in einem zeitlichen Labor, eine Auseinandersetzung mit
Raum, Objekt und Erfahrungen.


BAUSTELLE
La exposición propone un juego constructivo que reivindica la
convivencia con el espacio de trabajo y los objetos y experiencias
que alberga, como elementos principales que dan forma a las obras y
el modo de pensar de los artistas. De este modo, BAUSTELLE aparece
como un laboratoria cuya naturaleza responde a un mes de trabajo y
otro de exposición ambos en la misma sala. No se trata de mostrar el
expacio expositivo a modo de taller, sino mas bien de desdibujar los
límites entre ambos y una preocupación por que las piezas
acabadas sean capaces de transpirar las experiencias a través de
las cuales fueron construidas.


BAUSTELLE
This exhibition puts forward a constructive game claiming the artist′s
coexistence with his/her workspace and those objects and experiences
that it host, conceived as main elements shaping the creational thinking
structures. BAUSTELLE appears as a laboratory, whose nature is to show
one month of work and another one of exposure, both in the same place.
The aim is far from presenting the exhibition room as a workshop, rather
blurring the limits between these two special contexts and a concern for
the finished pieces could be able to narrate the majority of experiences
through which they were built.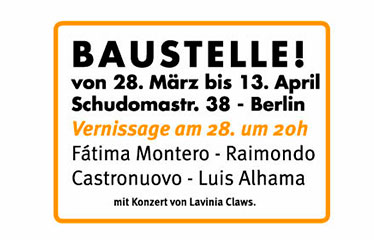 Weitere Informationen:
Fátima Montero
Spain, 1985

Fátima Montero was born in 1985 in Spain. She has studied degree Fine Arts in the Politechnical University of Valencia, and official master degree in Art Production in the same University.

Fátima has worked as artist for 8 years and has development her work in sculpture, installation art and drawing. She has taken part in numerous national and international exhibitions, such as "Betweens Lines" in Kleiner Salon, Berlin (2012, Germany); "Open Studios" in Glogauair Artist′s Residency, Berlin (2012, Germany);"National Art Price Pancho Cossó 2011" in CASYC Caja Cantabria in Santander (2011, Spain). "Young Creators" in Don Manuel palace Badajoz in. Évora (2010, Portugal); or "Mediterranean Workshop, Premio Nazionale de Arti′08" in Galleria d′Arte Contemporanea Centro Fieristico Le Ciminiere di Catania (2009 Italy).

She has received awards "Sculpture and Installation National Art Price and Young Value Pancho Cossó 2011". In Santander (Spain); "XII Biennial of Quart de Poblet" in Quart de Poblet Council (Valencia), or "Sculpture Award, J.A.BA" Awards of the Badajoz Council (Spain). And grant in different artist residency: "Grant-Residence for art creation La Fraó­gua" in Cordoba (Spain); "Encuentra 11". Grant-Meeting artists in Uncastillo Foundation in Zaragoza (Spain); or "IV National Grant for Art Creation" in "La Rectoría Art Centre", in Barcelona (Spain). Now in Berlin, she has development her work and working in GlogauAIR Artist´s residence.

Web: www.fatimamontero.wordpress.com



Raimondo Castronuovo
Italy, 1981

Architect, painter and sculptor, lives and works in Berlin. Graduated in architecture in June 2009. His research starts from the human figure manipulated and stripped to bring to light the hidden nature placed to highlight a profound loneliness.

"Raimondo Castronuovo through his sculpture, effective and defined by simplicity of form, represents a reality that lives and throbs in his imagination. In his works uses a mask, the leitmotif of an unsettling physiognomy, which appalled. This is his signature, visual works that move something from the depths, small monuments to the inexpressible, evoking subtle uneasiness." (Beppe Palomba, Curator Accademia la bussola-Napoli)


He has taken part in numerous national and international exhibitions, such as "Betweens Lines" in Kleiner Salon, Berlin (2012,Germany), "Più Falso del vero", Castello Maschio Angioino, Napoli (2012, Italy). or "Collective exhibition" Spazio Ottagoni, Rome (2011, Italy). He has received awards like the special mention and plaque in "Il pazzo di Assisi", Andria (2009, Italy) or "moleskyne my detour 5×5" selected and published.

Web: www.premioceleste.it/raimondo.castronuovo



Luis Alhama
Spain, 1984

Luis Alhama begins his formative period at the Faculty of Fine Arts in Granada (2003) and later moved to Valencia where he graduated and made a Masters and conducting his thesis on the concept of strangeness applied to sculpture.


He has worked as artist for 8 years working in sculpture, installation art and drawing. He moved to Valencia last year where he started to work in some personal and collaborative proyects. Among the recent exhibitions we can find the collective "Betweens Lines" in space for young artists Kleiner Salon, and Open Studios artists residencies 2012 in GlogauAIR. Both in Berlin. Earlier in Spain he participated in Distopias desencajadas (Malaga and Sevilla 2012), The X Andalusian Art Competition (Málaga and Córdoba 2011) the exhibition of young artists in the Gallery 9 Valencia (2011) or in Art Museum CASYC of Cantabria (Santander 2010).

He has also participated in the university Art Fair ART IKAS (Bilbao 2010) and has won awards such as the National Art Competition X Pancho Cossio or X Competition Desencaja fine arts (acquisition of works by the Junta de Andalucó­a), Málaga Creates and other selections. He also took part in some artistic creation grants we can highlight stays in Al Raso (Granada 2008) or the Arts Centre La Rectoría (Barcelona 2010).

Web: www.luisalhama.es



Info/Link zu Lavinia Claws: soundcloud.com/lavinia-claws