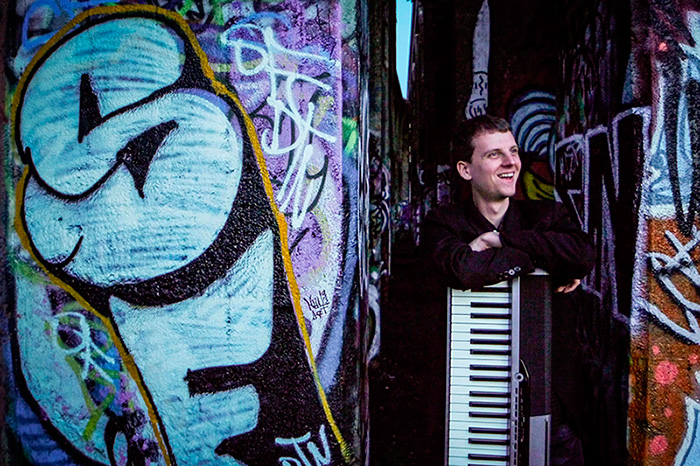 © Photo by Joshua Lee Mallory
28. May 2018 — 20 uhr

Julian Hartwell
piano solo performance
bio:
Julian Hartwell is a sought-after pianist, composer, bandleader, and educator
based in Philadelphia, PA. Over the past 15 years he has performed throughout a
wide swath of the Northeast — from jazz clubs to rock venues, music ministry to
high–class cocktail hours, weddings, jam sessions, and everything in between. A
graduate of Temple University's renown jazz program, he now finds himself as an
adjunct professor for piano and music theory at his alma mater. Career highlights
so far include sharing the stage with major names like Christian McBride, Jimmy
Heath, and Jon Faddis at Lincoln Center with the TU Jazz Band among others.
on solo piano:
As a solo pianist, it is quite evident that Julian has undergone a thorough study
of the jazz idiom. His fresh takes on time–worn standards and the Great American
Songbook strike a balance with modern post–bop influences and contemporary
sophistication. On the more artistic side of the equation, Hartwell is an avid
composer of solo piano works, taking inspiration from many genres and influences
to craft a unique and evocative sound. Delving into realms of neo–classical, folk
music and improvisation, this more introspective side to his repertoire is ideally
suited to such endeavors as artistic collaborations, commissioned projects, film
scores or intimate house concerts. While Julian reveals this solo side to the world
much less frequently, you can be sure that an official release of this kind is
waiting in the wings for willing ears when the time is right.
Reservierung: 030 / 56 82 89 31



Rixdorfer Jazzsalon


in der

Galerie bauchhund salonlabor



Schudomastr. 38, 12055 Berlin⁄Rixdorf
S-Bahn Sonnenallee ⁄ Bus M41 bis Mareschstraße